-
-
e-infrastructures
in Europe
Knowledge Base
Explore the Knowledge Base
Explore the Knowledge Base
The Knowledge Base consists of over 22.000 objects. To start exploring we do provide three main entries:
We also maintain an extensive document library.
e-IRG news
e-IRG news
The Academy of Finland has received a one-off increase of 81 million euro in its budget authority through the Finnish Government's fourth supplementary budget. In accordance with the supplementary
The European Commission published the final report of the High-Level Expert Group to Assess the Progress of ESFRI and Other World Class Research Infrastructures Towards Implementation and Long-Term
The European Open Science Cloud (EOSC) Executive Board has published its second version of the EOSC Work Plan. The plan is a co-ordination document that outlines key activities in this critical final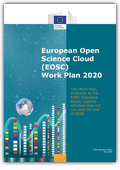 RSS
(Opens New Window)
e-IRG tweets
e-IRG tweets
News tweets by Primeur magazine
News tweets by Primeur magazine
e-Infrastructures
e-Infrastructures
Science today is difficult to imagine without a strong IT component. In Europe science that depends on IT is called eScience. IT infrastructures that support eScience are called e-Infrastructures. There is a long tradition to develop e-Infrastructures in Europe, and to try to connect them into continent wide e-Infrastructures. This to allow reasearchers from different countries to work together using the same computers.
The Knowledge Base provides insight into the complex e-Infrastructures, by providing overviews of projects, e-Infarstructures, and organisations, all in one big data graph. You can explore this by moving around the graph, gaining more udnerstanding of the complexe relations. We provide several starting pages that focus in different aspect as doors that unlock new rooms of information.
How to use the Knowledge Base - examples
How to use the Knowledge Base - examples
Latest documents added
Latest documents added