e-infrastructures
in Europe
Knowledge Base
e-IRG news
e-IRG news
At the ISC'18 Exhibition, we met Norbert Eicker at the Mont-Blanc booth. Norbert Eicker participates in the DEEP-EST project which is one of the Horizon2020 projects that develops technology for
Research Data Alliance (RDA) Europe continues its series of support programmes for data researchers and practitioners and is now running 2 Open Calls to facilitate participation of 7 RDA Early Career
In the first half of 2018, members of the Science|Business Network's Cloud Consultation Group met twice to discuss potential business models for the European Union's proposed "Science Cloud" project.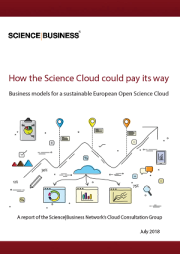 RSS
(Opens New Window)
e-IRG tweets
e-IRG tweets
News tweets by Primeur magazine
News tweets by Primeur magazine
e-Infrastructures
e-Infrastructures
Science today is difficult to imagine without a strong IT component. In Europe science that depends on IT is called eScience. IT infrastructures that support eScience are called e-Infrastructures. There is a long tradition to develop e-Infrastructures in Europe, and to try to connect them into continent wide e-Infrastructures. This to allow reasearchers from different countries to work together using the same computers.
Latest documents added
Latest documents added
The Federated Cloud Solution is targeted at researchers and research communities that need to access digital resources on a flexible environment, using common standards to support their data- and...
Video news
Video news
An error occurred while processing your XML and XSL.
© 2018 Genias Benelux & e-IRGSP4/e-IRGSP5 partners
The copyright of contents of the Knowledge Base resources is with the owners of the original resources. The copyright of the Topic Map representation is Genias Benelux.
Most material may be reused provided proper reference is given.